Structurally Stronger, Higher Quality, Faster Delivery
Built to your requirements – Machined to your tolerances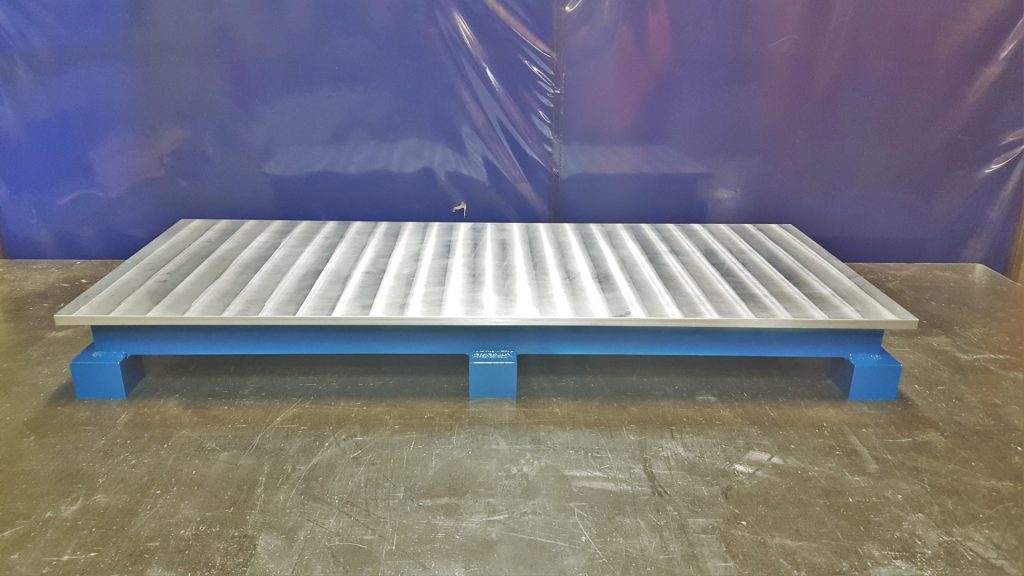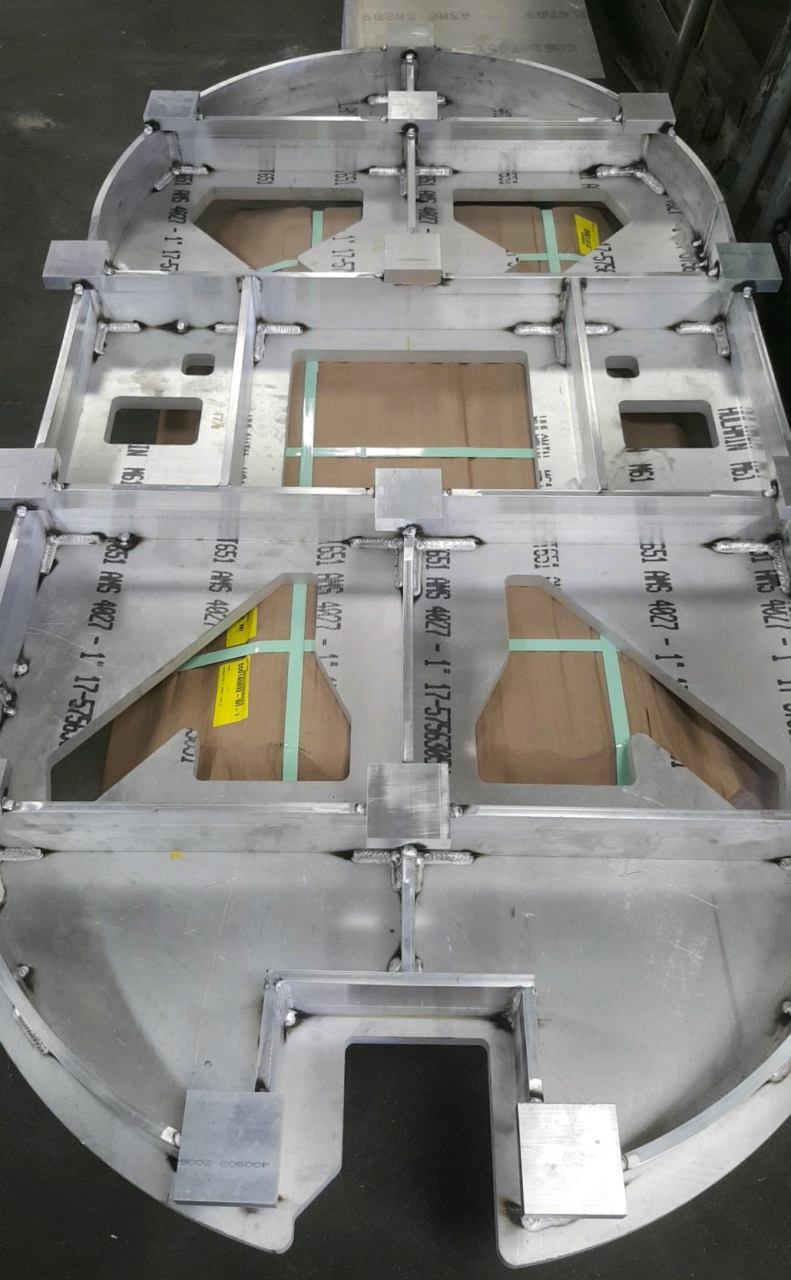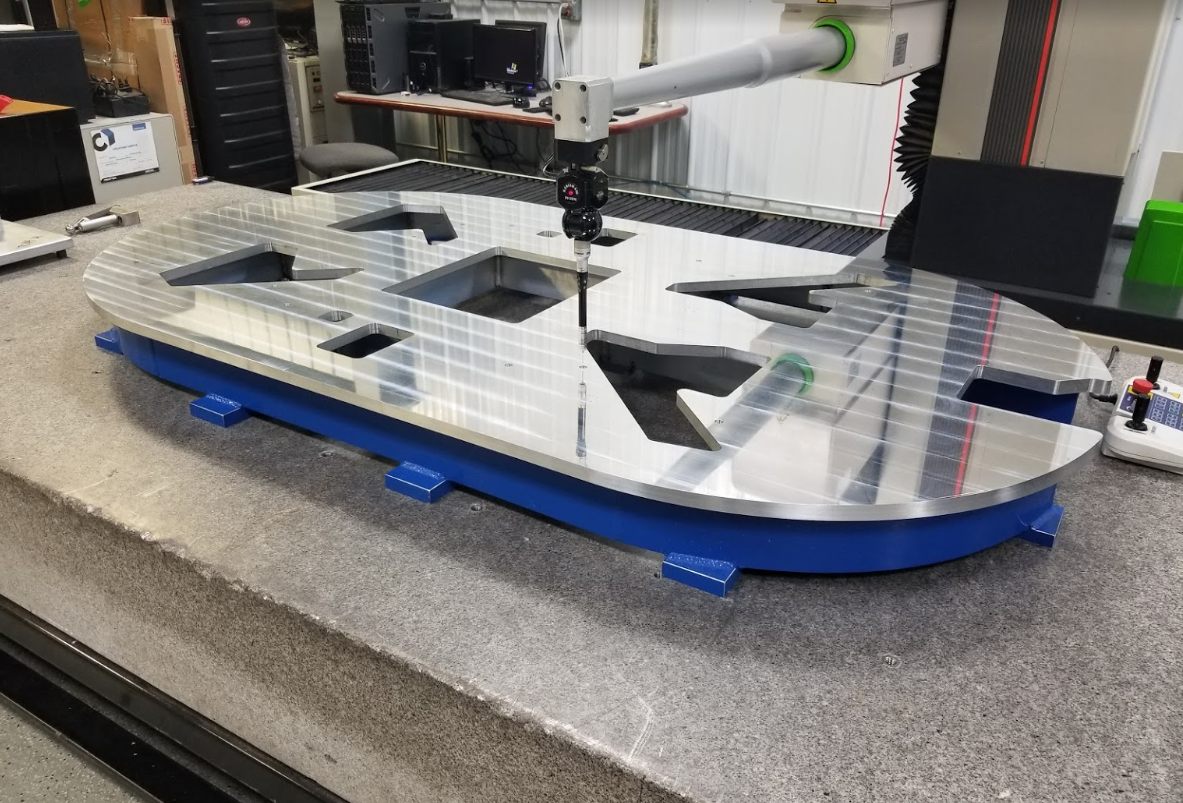 Since our inception it has been our goal to provide our customers with a welded base that exceeds your expectations in quality, construction and timing. We offer bases custom built to your design requirements in both aluminum and steel construction.
Bases can be built to most any shape and size. Each base is built specifically for you and to your specifications at the time of order. If required, we will work with you to provide recommendations on construction to ensure your order will fulfill your requirements. After fabrication our bases are thermally stress relieved to reduce residual stresses and provide dimensional stability. At this time, they can also be powdercoated to a variety of different colors. We use powdercoating to provide a durable finish that will not deteriorate during final machining of your part.
The next step in our process is the finish machining. With each base we machine and chamfer the top plate to size as well as profile the bottom feet. Each base is then surface machined top and bottom. The final step in our production process is our quality and conformance check. All our bases are inspected to industry leading flatness tolerances on our granite surface plates. A report is then completed and provided to our customer. Our goal is not to provide an equivalent to flatness standards set by other suppliers, but to exceed them.
With each base provided by NKB you can be assured you have the key component in any successful construction, a solid foundation to base your build from.
In todays rapidly growing and fast paced society we know timing can always become an issue. To speed up your manufacturing process we offer additional machining services for our bases. Those services range from adding grid lines, engraving or special features. As well as drilled, reamed and tapped holes. With these services you can assemble your fixture or gage immediately upon its arrival.
Machining services for all industries
Our team combines state of the art cad/cam software with extensive industry knowledge to consistently complete parts on time and as required by a diverse customer base.
Our specialty is our diversity and flexibility.
With experience in a wide variety of industries and materials our specialties range from small, precision parts to machining of large plates, weldments and much more.
At North Kent Base you will find our flexible machining schedule is the solution to your urgent machining needs. We can provide emergency machining services and quickly turn around those critical jobs you need to source. Whether you are working with compressed timing on a new project or have an existing part that needs repair or modification we will promptly reply and work with you to meet your deadline requirements.
Machining services are offered for the following: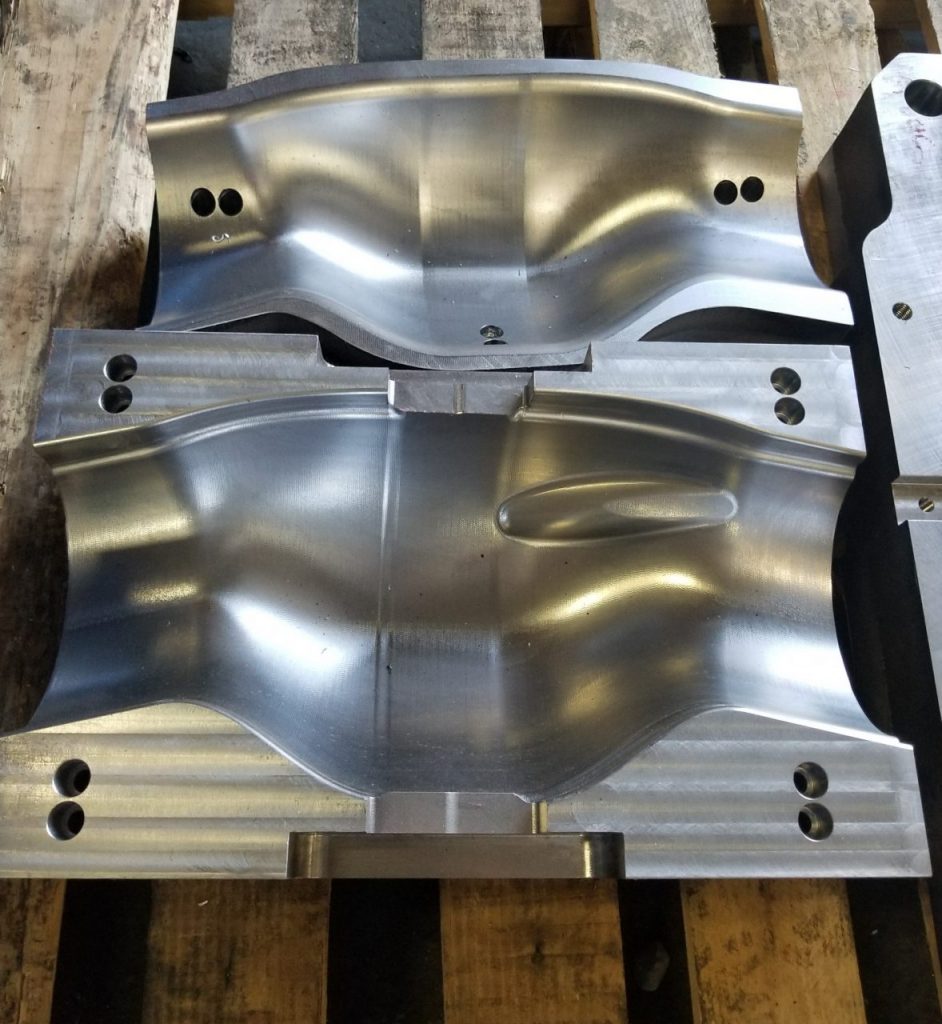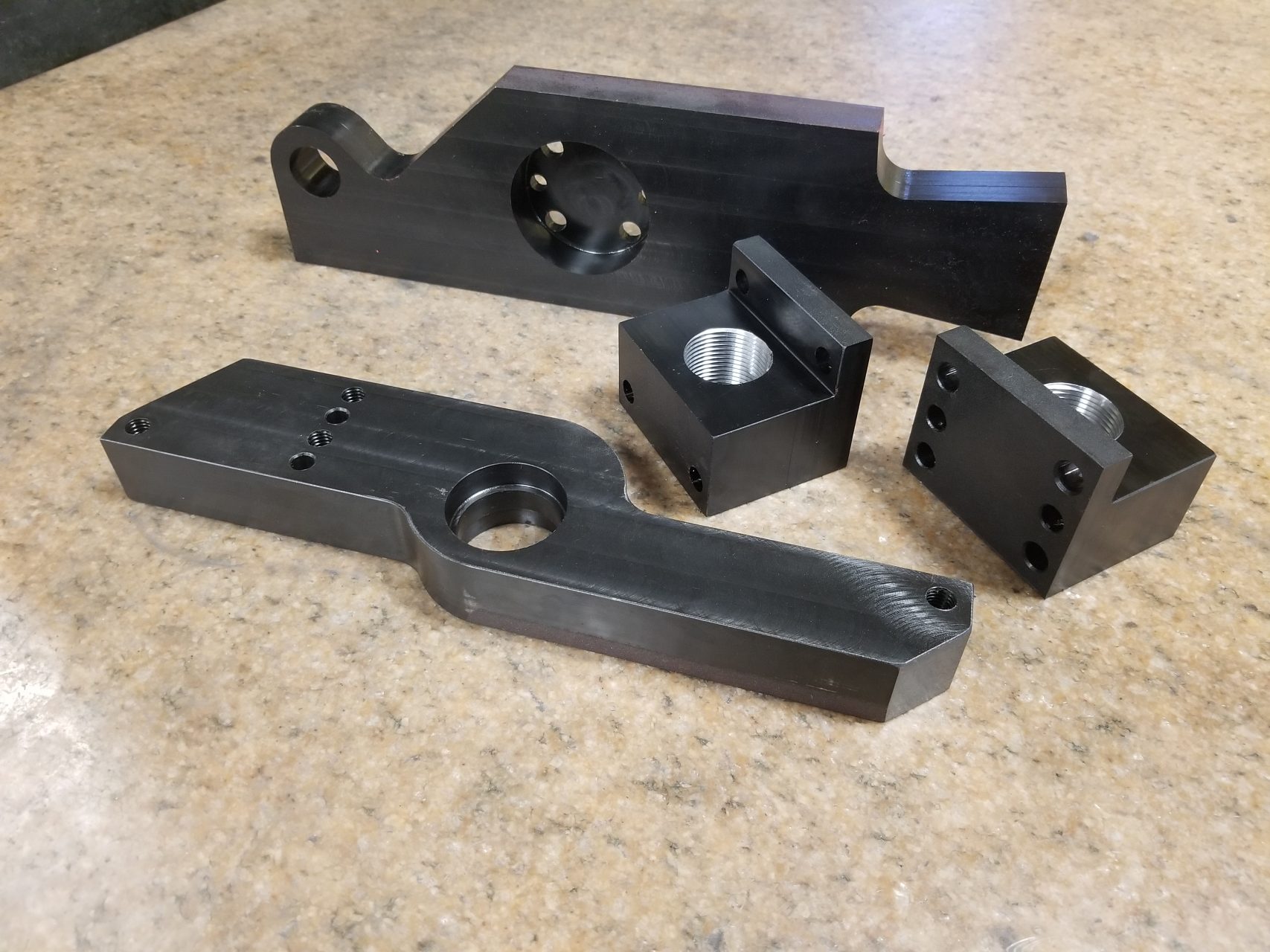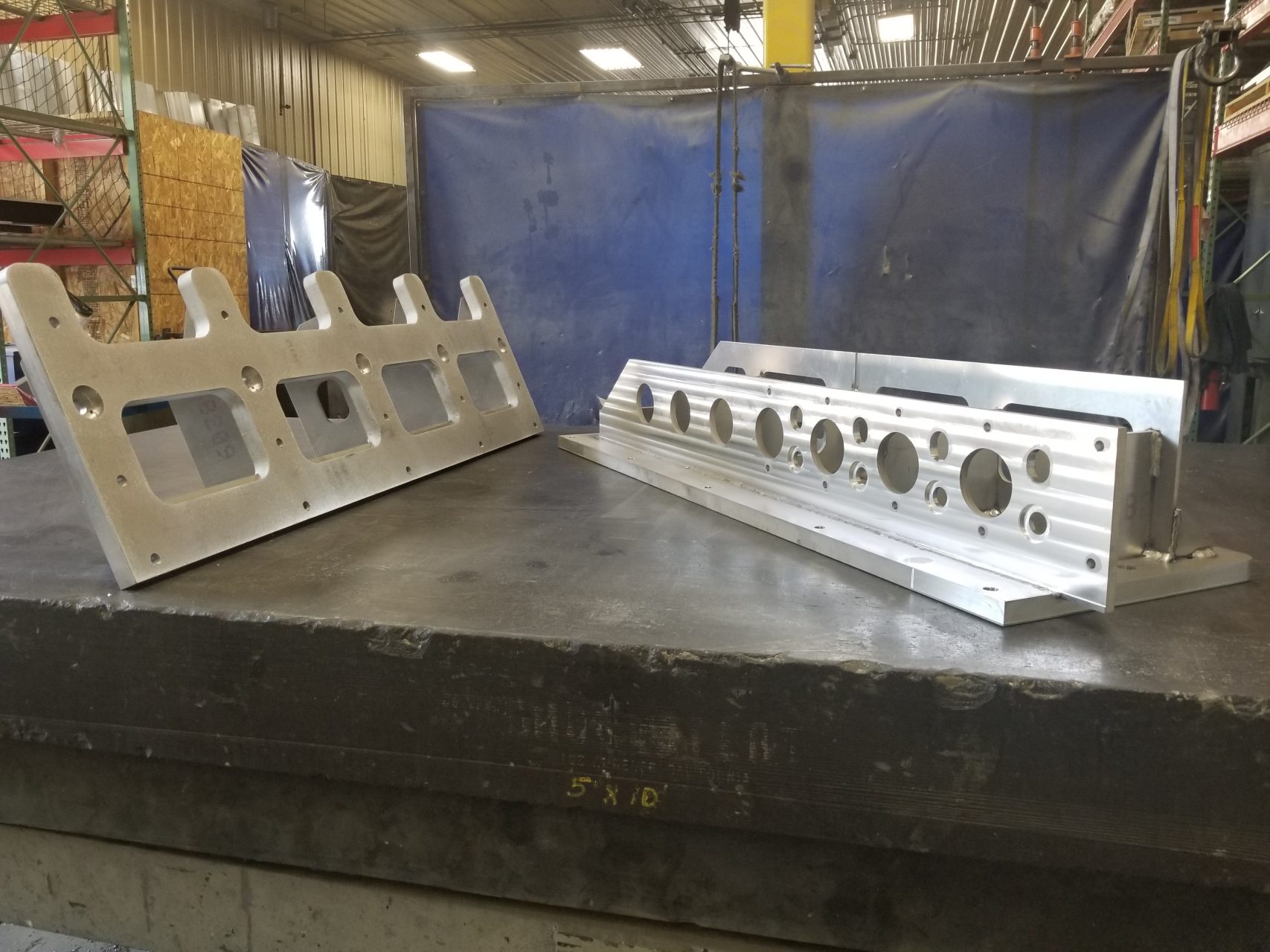 We offer welding and fabrication for both aluminum and steel
Welding and fabrication services are offered by many companies, but few provide the quality and inclusive services offered by North Kent Base. We combine the latest equipment with our expertise and experience to offer full service welding and fabrication that exceeds expectations in every industry. Using our in house fabrication resources or qualified vendors we are able to provide you a single source for your project needs.
At North Kent Base we work with our customers to ensure each part we produce meets the structural and integral needs of your project. With our knowledgeable staff and extensive facility, we possess capabilities for a variety of projects regardless of complexity or size.
Precise Tools Make Precise Parts
Need Something Unique or In a Hurry?
As a full service machine and fabrication shop, we possess a wide range of capabilities. Please do not hesitate to contact North Kent Base to discuss your particular project or situation in detail.